»We are strongly pleading for no one to jump to conclusions that could jeopardize the solidarity movement, endangering Mumia«
10.11.10 (von ivk)
Three longtime Mumia supporters from Germany are deeply concerned about possible setbacks following conflict in Mumia Abu-Jamal's defense team
STATEMENT CONCERNING THE INFORMATION »MUMIA DISMISSES ROBERT R. BRYAN«
The above-quoted information, disseminated by Berlin's »Bündnis Freiheit für Mumia Abu-Jamal« [Alliance Freedom for Mumia Abu-Jamal] has led us to make the following statement:
Through a telephone call to Robert R. Bryan, Mumia Abu-Jamal's lead counsel, we have learned:
1. In spite of numerous attempts and protracted discussion, it was impossible to agree on a compromise in a conflict with his co-defender, Atty. Judith Ritter, before tomorrow's hearing. Robert R. Bryan is under enormous pressure from the circle of those who have called a press conference in the USA.
2. To resolve the conflict, Atty. Bryan applied to the court to be relieved of his duty of having to participate at the hearing. The court granted this request and specified that Atty. Ritter would be the sole speaker for the defense during the hearing.
3. This signifies merely that Atty. Bryan has abdicated his mandate for that segment of the proceedings occurring before the US Court of Appeals for the 3rd Circuit.
4. After the hearing, Atty. Bryan will clarify and decide the continuation of the course of proceedings with Mumia Abu-Jamal – the relative certain new hearing of the case before the Supreme Court and other judicial measures and investigations that he has already initiated in consultation with his client.
We are awaiting an authentic statement from Mumia Abu-Jamal and remain in contact with the defense. After that statement arrives, we will state our position on these complicated issues. We are strongly pleading for no one to jump to conclusions that could jeopardize the solidarity movement, endangering Mumia.
We are also strongly pleading for everyone to handle dissemination of information, such as that quoted above, very carefully!
Information contained in the announcement of a press conference, called by sectors of the US campaign, has evidently not been verified. Concerning the information that Mumia Abu-Jamal had dismissed his main defense attorney, the Berlin Alliance declaration makes no mention of personal statements from Mumia Abu-Jamal and Robert R. Bryan.
Also conspicuous is the fact that at the press conference, scheduled for 15.00 (EST) (21:00 here in Europe), no one is due to participate from the defense team, only groups and individuals, who do not say in whose names they are speaking.
In this precarious situation, in which Mumia Abu-Jamal's fate may be decided before the US Court of Appeals for the 3rd Circuit in Philadelphia, we do not need speculation, whether credible or not, we need verifiable facts from the source.
Monday November 8, 2010, 17:00 Middle European Time
Rolf Becker, Trade Unionist, Hamburg
Eberhard Schultz, Attorney at Law, Berlin
Jürgen Heiser, International Defense Committee (IVK), Bremen
Inquiries: ivk (a) freedom-now dot de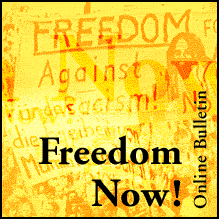 Nächste Termine

Keine Termine bekannt.



Login