Fight for Mumia reaches German Bundestag
18.12.09 (von ivk)
Victor Grossman, Berlin, on Mumia Abu-Jamals message to the German parliament
On Thursday December 17th, a Bundestag delegate from The Left, Annette Groth, read a message by Mumia Abu-Jamal which was Emailed by his lawyer Robert R. Bryan of San Francisco.
To the Honorable members of the German Bundestag:
Can you imagine what it means to be sentenced to death?
Can you imagine being told how you will be executed, but having to wait year after year to die?
This is the situation for more than 3,000 people on death rows in the US and over 20,000 men, women and children awaiting execution worldwide.
I have been waiting nearly three decades to meet with my executioner. Racism has been part of my case from the time of my 1981 arrest until today. For example, the judge said during my trial, "I'm going to help them fry the nigger." This represents just one comment in one case, among many cases that are riddled with abuses.
I am therefore speaking not only on my behalf, but for all those on death rows around the globe. I ask you to support the petition that is being presented today.
The death penalty is wrong for anyone and must be abolished. We on death row need your help.
I thank you and your European colleagues for your steadfast rejection of capital punishment.
Danke sehr,
Mumia Abu-Jamal
Todeszelle [death row], Pennsylvania
15 December 2009
The motion to support Mumia was referred to committee for alteration and will again be presented in the new year, but both parties in the government coalition, the Christian Democrats and the Free Democrats, although they did not take a stand on Mumia, did speak in favor of a resolution opposing the death penalty in the whole world.
The city-state council of Bremen has already passed a resolution calling for a new trial, and city councils in Munich, Kaiserslautern and other cities discussed the same issue, with a large number in support of Mumia's right to a new trial. Meetings and demonstrations, though not as large as desired, have been held in an unprecedented several dozen cities all over Germany, and a call has gone out for an emergency rally against Mumia's execution in case the Supreme Court rules against him next year. The issue has been rapidly gaining in strength.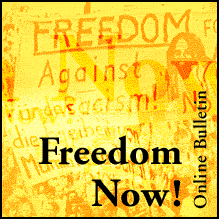 Nächste Termine

Keine Termine bekannt.



Login