+++IVK-News-Ticker+++17. Dezember 2007+++IVK-News-Ticker+++
17.12.07 (von ivk)
+++Mumia Abu-Jamal und sein Anwalt Robert R. Bryan äußern sich zur NBC »Today Show« vom 6. Dezember 2007+++Ungekürztes Transcript des Beitrages über das Buch »Murdered by Mumia« von Maureen Faulkner+++TV-Beitrag kann hier als Video angesehen werden+++
IVK-News-Ticker Nr. 4 / 17. Dezember 2007
Aktuelle Mitteilung von Rechtsanwalt Robert R. Bryan:
Liebe Freundinnen und Freunde,
ich bin seit letzter Woche oft gefragt worden, wie mein Mandant Mumia Abu-Jamal auf die am 6. Dezember 2007 landesweit in den USA ausgestrahlte NBC »Today Show« reagiert hat, konkret den Beitrag über das Buch von Maureen Faulkner. Diese Sendung erfreut sich als Frühstücksfernsehen in den USA großer Beliebtheit und hat einen hohen Grad von Glaubwürdigkeit. Während eines unserer regelmäßigen Verteidiger-Telefongespräche hat Mumia seine Meinung zu dem Beitrag so zusammengefaßt »Mein Fall wurde fair und ausgewogen behandelt.«
Ich stimme mit dieser Einschätzung meines Mandanten voll überein. Wir haben die Medien schon immer darum gebeten, daß sie meinen Mandanten fair behandeln. Das Transkript des Beitrages kann weiter unten im Original eingesehen werden.
Es gibt immer noch keine Entscheidung des Bundesberufungsgerichts für den 3. Bezirk in Philadelphia, obwohl wir schon vor über sieben Monaten in der öffentlichen Anhörung unsere mündliche Stellungnahme zum Berufungsantrag in der Sache der Wiederaufnahme des Verfahrens abgegeben haben.
Niemand weiß, wie das Gericht entscheiden wird, auch wenn die Anhörung einen für unseren Mandanten günstigen Verlauf genommen hatte. Wenn das Gericht dem Auftrag der US-Verfassung folgt, wird es nach meinen in vielen Todesstrafenverfahren gewonnenen Erfahrungen zu unseren Gunsten entscheiden.
Trotzdem treffen Gerichte unvorhersehbare Entscheidungen und sprechen nicht immer Recht. Mumia ist deshalb immer noch in großer Gefahr.
[Zu den möglichen Varianten der Etscheidung sei hier auf den News-Ticker Nr. 2 vom 12. September 2007 verwiesen.]
Es geht in der Sache immer noch um das Recht auf einen fairen Prozeß, den Kampf gegen die Todesstrafe und die Tatsache, daß ein mutiger Autor und Journalist unterdrückt werden soll.
Mein Ziel bleibt die Durchsetzung eines neuen Geschworenenprozesses, in dem mein Mandant als »nicht schuldig« in die Freiheit entlassen wird und zu seiner Familie zurückkehren kann.
Ich freue mich sehr darüber, daß so viele Menschen sich für die Menschenrechte einsetzen.
Mit aufrichtigen Grüßen,
Ihr Robert R. Bryan
San Francisco, USA
Hauptverteidiger von Mumia Abu-Jamal

================================================================================

Transcript der NBC »Today Show« vom 6. December 2007

Moderator im Studio: Matt Lauer

[Der Beitrag kann HIER (bitte anklicken!) als Video angesehen werden]

MATT LAUER: On December 9th, 1981 a Philadelphia police officer was shot and killed while serving in the line of duty. A man named Mumia Abu-Jamal was convicted of the murder and sentenced to death. To this day he maintains his innocence. To some he is a cold-blooded killer, to others he's a political prisoner. Here's NBC's Rehema Ellis.
[On screen headline: "Murdered By Mumia, Police Widow's Fight For Justice."]
Offscreen Voice #1 (From file footage): Police tell us that Officer Daniel Faulkner was shot down at 13th and Locust.
REHEMA ELLIS: When Officer Daniel Faulkner, a 25-year-old newlywed was gunned down on a Philadelphia street following a traffic stop no one knew it would ignite a debate that would be heard around the world.
UNIDENTIFIED PROTESTER #1: Free Mumia now!
UNIDENTIFIED PROTESTER #2: Kill Mumia now!
ELLIS: Mumia Abu-Jamal, a former Black Panther, radio journalist and taxi driver was arrested, charged and convicted of murder. For 25 years now he's been on death row for a crime, he says, he did not commit.
PROTESTORS (Chanting): Free Mumia! Free Mumia! Free Mumia now!
ELLIS: He's attracted Hollywood stars and gained international fame.
UNIDENTIFIED WOMAN: It's a righteous cause! That's why you see people right here from Belgium, from France, from Germany, from South Africa, here!
ELLIS: There have been rallies and fundraisers for a man many say was framed by a racist legal system but Officer Faulkner's family has a different view.
TOM FAULKNER (brother): He's no damn martyr. He assassinated my brother.
ELLIS: Over the years Abu-Jamal's advocates have tried but failed to overturn his conviction. Now supporters say there is new photographic evidence that should lead to a new trial.
ROBERT R. BRYAN (Lead counsel for Mumia Abu-Jamal): The jury only saw one side of the coin.
Offscreen Voice #2: Do you believe you will, one day, be a free man or do you believe, one day, you will be put to death?
MUMIA ABU-JAMAL: I'm working for the former, not the latter.
ELLIS: In May Abu-Jamal's defense team argued he should be set free while prosecutors still insisted he should be executed. As everyone awaits a court's decision 53-year-old Mumia Abu-Jamal remains on death row and the debate over what happened that night, almost 26 years ago, continues. For Today, Rehema Ellis, NBC News, New York.
LAUER: Maureen Faulkner is the widow of slain police officer Danny Faulkner, Michael Smerconish is a conservative radio host and columnist based in Philadelphia. Their new book is called Murdered By Mumia: A Life Sentence of Loss, Pain and Injustice. Good morning to both of you.
MAUREEN FAULKNER: Good morning Matt.
MICHAEL SMERCONISH: Good morning.
LAUER: I was struck, Maureen, I was watching that piece and I'm trying to think if you could have ever imagined 26 years ago, when this first happened that, that 26 years later you'd still be in the midst of debate over this case?
FAULKNER: No, Matt, absolutely not. After Danny was murdered in 1981 and he was buried and the case was over I thought I could go on with my life and try to rebuild and have a new life. But for the past 26 years I've just been haunted by the Free Mumia movement.
LAUER: And, and in some ways it seems the debate over guilt or innocence or racism or injustice has somehow left Danny out. And, and, at times when I hear this debate I don't hear people remembering that a police officer was murdered by someone.
FAULKNER: So often they do not mention Danny's name. And that's what they need to do. I mean he was a young police officer, he was 25-years-old and he was brutally murdered by Mumia.
LAUER: I want to show people a live shot outside our studio right now and show them that there is a fairly substantial protest right across the street from our studio. These people got up early in the morning, came from some place to express their views that this man is innocent. How do you feel, why do you think they're here, if they don't truly believe that?
FAULKNER: They are trying the case in the court of public opinion and not in the court of law and that's why I think people need to read the book. It's all there. My life, the facts, what happened the night my husband was murdered is all in the book.
LAUER: Michael, Abu-Jamal's attorney since 2003 is a guy named Robert Bryan. He says that when the conviction and sentence came down in 1982 there were constitutional issues, there was racism, there was injustice, there was evidence tampering. He also says, by the way, that you're a guy who's involved in this for your own personal gain because you didn't try this case, you're not a lawyer. Why, why are you involved in this?
SMERCONISH: Well I resent that charge and obviously Mr. Bryan hasn't read the inside flap of the book. "The author's proceeds from the sale of this book are being donated to a not-for-profit," that Maureen has established for the benefit of murder victim children. This is a three-year investment.
LAUER: Maybe he's not talking about financial personal gain. Maybe he's talking about for status and, and, and attention.
SMERCONISH: There's, there's no upside. There's a tremendous drain on my time to write this but America needs to know the story of an unbelievable woman who for 26 years has fought the fight when I think most of us would've washed our hands of it and walked away.
LAUER: If, if there is something new in this case and for so many years there really hasn't been an awful lot new, there's just been heated debate but there are some photographs that have been released by supporters of Mumia and, and they were taken by a freelancer named Pedro Polokoff. They say, the supporters say, these photos show a policeman holding two guns in his bare hand, contradicting what officers trial testimony was that he had preserved, ballistics evidence. Another shows Faulkner's hat, your husband's hat on top of a car, not on the sidewalk, as in the official police photo of the crime scene. And the third shows a blood-stained sidewalk where the shooting took place but does not show any signs of marks in the concrete that might have occurred if, if your husband had been shot from above as prosecutors contended. The defense attorney says he can have a field day with these photographs if a new trial is-
SMERCONISH: But this is the outrage. For 26 years these canards have enabled the manipulation of the process. I mean it's as reliable as the fact that Christmas is on the 25th on December that they will come up with something every year. One year it was a guy who stood up and said, "I know who murdered Danny Faulkner! I did it!" And the defense lawyers thought he was preposterous. Another year it was a guy who said that he was there and that the dying words of Danny Faulkner were, "Get Maureen, get the children!" When everybody agrees he died instantly and unfortunately she never had the chance to have children with Danny I mean it's, where does it stop?
FAULKNER: Where have these pictures been for 26 years? I mean where have they been? Why hasn't this man come forth sooner than now?
LAUER: Maureen, when you're ever, when you're alone, when you're alone with your thoughts at night, when you even see pictures of the protest like the one we have across the street, does it ever cross your mind that perhaps they're right? Do you ever allow yourself to consider the fact that perhaps he didn't do this?
FAULKNER: He murdered my husband in cold blood and there is no doubt in my mind. Absolutely no doubt. And I wrote this book, it, it was a therapy for me to get my life in black and white so people can read it. And Michael, thank you Michael. Michael has been with me for 15 years helping me and standing up and speaking out for me, 15 years.
LAUER: The emotions of this case run very high and, and I'm sure we're not gonna have an answer today, that's for sure. But Michael thank you for being here. Maureen thanks so much, it's nice to meet you.
SMERCONISH: Thank you, Matt, thank you.
FAULKNER: Thank you, Matt.
LAUER: We appreciate it. The book is called "Murdered By Mumia" and an excerpt can be found todayshow.com.

[Ende des Transkripts]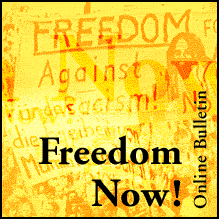 Nächste Termine

Keine Termine bekannt.



Login