First Declaration of the International Committee to Abolish the Death Penalty (ICADP)
02.07.06 (von ivk)
30 years after the reinstatement of capital punishment in the United States the ICADP demand a national moratorium and the immediate release of Mumia Abu-Jamal from death row
First Declaration of the International Committee to Abolish the Death Penalty (ICADP)
»We demand a national moratorium on the death penalty in the United States and the immediate release of Mumia Abu-Jamal from death row!«
30 years of reinstatement of the death penalty
July 2, 2006 marks the 30th anniversary of the day the death penalty was reinstated in the United States of America.
The US Supreme Court on June 29, 1972 in Furman vs. Georgia, 408 U.S. 238 (1972), invalidated the death-sentencing statutes in place in the United States. In a 5-4 decision, the court held that all such laws were arbitrary and discriminatory and thus violated the "cruel and unusual punishment" clause of the Eighth Amendment to the United States Constitution.
The Furman decision invalidated death sentences imposed on over 600 defendants. However, it did not abolish the death penalty altogether since only two of the nine justices, William Brennan and Thurgood Marshall, flatly condemned capital punishment under all circumstances. Consequently, many states adopted new procedures in an effort to overcome the deficiencies that made standardless, discretionary sentencing statutes unconstitutional.
This temporary judicial victory over capital punishment was an expression of the political and social upheavals of the 1960s - 70s, particularly the upsurge of Afro-Americans against racism and poverty, and their fight for civil and human rights.
Death row and the prison industrial complex
The situation deplored by the court in 1972 has not been essentially altered since the death penalty was reinstated by that same court four years later in Gregg v. Georgia, 428 U.S. 153 (1976). It approved new death-sentencing systems. Today death row is more populated then ever, and as before, race and riches are the predominating criteria in deciding who lands on death row and in prison.
Since 1975, crime rates have generally remained constant or, in some cases, decreased. Yet during that same period the U.S. incarceration rate has quadrupled while the rate of death sentences handed down and the number of executions have remained high. The death penalty is applied in a discriminatory manner, with death rows in 38 states plus in the federal system being disproportionately filled with poor and minority inmates with often meager legal representation. DNA and other evidence is increasingly proving those sentenced to death have been wrongly convicted, raising the specter that the state is killing people who are not "guilty as charged". Many prisoners have gone to their deaths proclaiming their innocence. More than 122 death row prisoners have been exonerated and released after DNA - and other evidence - established their innocence, only after many years awaiting the executioner.
The voices of those survivors of death row are a warning to us all. Their fate shows that the estimated figure of innocent prisoners who have been executed is much higher than usually assumed. But above all, their voices remind us that "convicted" does not necessarily mean "guilty," that juries do make mistakes.
It is no wonder that five times more Afro-Americans are in prison than are studying at colleges or universities, while state and local governments are diverting budget financing from education to the building of new prisons. Black women are the fastest growing group of prisoners. More than 70 percent of the prison population is Afro- or Latino-American. Prisoners are subjugated to a situation of absolute disfranchisement and exploitation. In 46 states, people lose their voting rights while serving a felony conviction. In 32 states, people, convicted of a felony, are denied the right to vote, until after they have finished serving their parole. In 10 states, convicted felons lose their right to vote for the rest of their lives. These figures show, for example, that 13% of Afro-Americans of voting age currently have lost their right to vote.
The prison industrial complex has become an essential component of the US economy. The exploitation in the prison industrial complex offers a lucrative investment for private capital, with low production costs, comparable only to low-wage countries of the "third world." The 13th Amendment to the US Constitution abolished slavery and involuntary servitude "except as a punishment for crime whereof the party shall have been duly convicted." Private prisons alone, which have over 100,000 prisoners under their control, generate a $40 to $50 billion market per year. Thus in US society, a new segregation has developed, whose core represents a modern form of slavery.
Violation of human rights, infringement of international law
The situation of more than 3500 prisoners on death row and of more than two million people incarcerated in the federal, state and private prison industrial complex is an expression of the steady deterioration of the political and social norms in US society. The poor and minorities have become scapegoats for a nation that has elevated the lynch mob mentality to the legal standards of its jurisprudence.
While the US government is violating international law to militarily secure its spheres of influence and power, and to rob energy resources, under the false pretext of waging a "war against terror" abroad, at home the Department of Homeland Security has recently granted a $385 million contract to a Halliburton subsidiary to provide "temporary detention and processing capabilities." These detention centers could be used to detain American citizens when/if the US government were to declare martial law. These would become "homeland" Guantanamos, where the inmates would enjoy neither civil nor human rights.
Moratorium as a first step
Capital punishment must be abolished! Even if discrimination and miscarriages of justice could be eliminated, it still remains a barbarian, inhumane and fundamentally excessive practice.
As a first step, we therefore demand a national death penalty moratorium. Of the 38 states, with capital punishment laws, twelve have suspended its application. More states are considering a moratorium.
An indication of the currency of this demand for a moratorium is the recent Supreme Court decision permitting a Florida death row inmate, seeking to challenge the lethal injection method of execution, to pursue the issue as a civil rights claim. It is contended that execution by injection causes "gratuitous and unnecessary pain." Several states have already had to temporarily suspend executions on the basis of the barbarism of the method the state uses to kill its victims.
The experience with state terror, under German Nazi rule, has led more and more European countries in the postwar period to raise the renunciation of the death penalty to the level of a constitutional principle of their nations. Through a strong national and international grassroots movement, the US can also be forced to finally accept this position.
Free Mumia Abu-Jamal
Mumia Abu-Jamal, journalist and Author from Philadelphia, who was deprived of a fair trial, is one of the innocent inhabitants of death row. Were he finally granted a new and fair trial with high caliber representation as is being demanded for over two decades by an international campaign, the outcome would probably be quite different. For nearly 25 years he has been waging a courageous struggle not only for a new trial but also against the death penalty. In his writings and talks against the death penalty, injustice, racism and war, Mumia has become a well respected Author and speaker for all those in opposition to these lingering vestiges of barbarism. Like no other, Mumia Abu Jamal has given the anti-death penalty struggle a face. He has become a crucial symbol of the struggle against those forces, seeking to turn his execution into a victory in favor of the death penalty. We stand steadfast by Mumia in his demand for a new and fair trial and for his immediate release from death row.
Let us transform the significance of July 2nd. Let that date mark the necessity for the total abolition of the death penalty. Let us get the Supreme Court to finish the job that was left undone.
We therefore urge all grassroots movements, democratic forces and defenders of human rights and international law worldwide to raise and publicize these demands.
Abolition of the death penalty in the United States and throughout the world!
We demand the immediate release of Mumia Abu-Jamal from death row and that he be granted a fair trial!
USA: Prof. Angela Y. Davis / Robert R. Bryan, Atty. at Law / Charlene Mitchell, Co-Chair Committees of Correspondence for Democracy & Socialism.
France: Henri Alleg, Journalist-Author / Gilberte Salem, Translator.
Germany: Detlef Baade, Shop Steward / Rolf Becker, Actor, Member Board of Union of Media Workers in Hamburg / Prof. Dr. Lothar Bisky, MP, National Chair of Left Party.PDS, / Dr. Oliver Brüchert, Sociologist / Peter O. Chotjewitz, Author / Sevim Dagdelen, MP / Dr. Diether Dehm, MP / Prof. Wolfram Elsner, Prof. of Economics / Christiane Ensslin, Editor / Prof. Dr. Johannes Feest, Archives of Corrections, University of Bremen / Claus Förster, Atty. at Law / Christian Geissler, Author / Peter Gingold, Chairperson of VVN-BdA (Association of the Persecuted of the Nazi-Regime, Vice-Chairman of the Auschwitz Committee / Dr. Rolf Gössner, Atty. at Law, President of the Internat. Human Rights League / Victor Grossman, Journalist, Author / Lühr Henken, Bundesausschuß Friedensratschlag (peace movement) / Ulla Jelpke, MP / Walter Kaufmann, Author / Sabine Klein-Schonnefeld, Sociologist / Sabine Kruse, Erich-Mühsam-Society / Oskar Lafontaine, MP, National Chair of WASG / Felicia Langer, Atty. at Law / Herbert Leuninger, Parson, Founder of PRO ASYL / Michael Leutert, MP, Human Rights Spokesman Left Party Parliamentary Group / Willi van Ooyen, Chairperson of Friedens- und Zukunftswerkstatt (peace movement) / Prof. Norman Paech, Prof. of International Law, MP / Ulf Panzer, Judge, IALANA / Sabine Peters, Author / Erhard Pumm, Chairperson of the League of Unions, Hamburg (DGB) / Prof. Dr. Werner Ruf / Horst Schäfer, Journalist, Author / Horst Schmitthenner, Commissioner of the Metal Workers Union (IG Metall) / Dr. Heinz Jürgen Schneider, Atty. at Law / Wilfried F. Schoeller, General Secretary of the German P.E.N.-Center / Prof. Dr. Herbert Schui, MP / Eckart Spoo, Journalist, Publisher / Dr. Martin Stankowski, Journalist / Johano Strasser, President of the German P.E.N.-Center / Dr. Peter Strutynski, Bundesausschuß Friedensratschlag (peace movement coordinator) / Reinhard Thiele, Cuba Sí-Solidarity Committee/Left Party.PDS / Mag Wompel & Ralf Pandorf, Editors of LabourNet / Wienke Zitzlaff, Rector (off duty).
ICADP c/o IVK (International Defense Committee / Internat. Verteidigungs Komitee)
P.O.Box 150530, D-28095 Bremen / Germany
Fon/Fax: (421) 354029, Cell: (174)-972 99 29
eMail: info@freedom-now.de // Website: www.freedom-now.de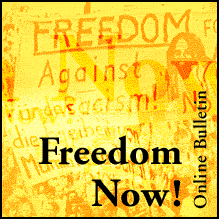 Nächste Termine

Keine Termine bekannt.



Login