Das International Jewish Anti-Zionist Network zum Besuch von Kaliforniens Gouverneur Jerry Brown in der BRD
19.07.13 (von ivk)
Die nachfolgende Petition wird in Kürze online auf die Website des International Jewish Anti-Zionist Network gestellt und kann dann dort unterzeichnet werden
Upon California Governor Brown's visit to Dachau, Jews Decry his Complicity with Repression of California Prisoners
In the second week of a massive hunger strike resumed by California prisoners July 8, 2013 to end long-term solitary confinement, group punishment, and other torturous policies of the California Department of Corrections and Rehabilitation, California Governor Jerry Brown is taking a two-week vacation to Germany and Ireland – a vacation that will include a visit to the Dachau concentration camp. Though Brown could bring significant pressure to bear on the California Department of Corrections and Rehabilitation to negotiate with the strikers and meet their five basic demands, Brown has been silent. Last year, he vetoed a bill (AB 1270) that would have allowed journalists to speak to prisoners – perpetuating mainstream ignorance of torturous conditions in the prisons California taxpayers finance. Though he was well aware that CDCR had not effected any substantive change following the July and October 2011 hunger strikes (during which Brown lambasted hunger strikers), and that prisoners planned to return to hunger strike July 8, 2013, he did nothing.
We the undersigned are outraged that Brown would exploit the Nazi genocide as he allows the repression of people of color and poor people, women, and transgender people to be a profitable industry in California. The racism that allows Brown to be silent is the same racism that allows for the massive and disproportionate incarceration of Black and Brown people in California and nationwide (According to the ACLU, one in fifteen Black men age 18 or over are incarcerated. (http://www.aclu.org/combating-mass-incarceration-facts-0) The U.S. imprisons a larger percentage of its Black population than South Africa during the height of apartheid.
This same racism allows for the extrajudicial killing of Black people with impunity, of whom Trayvon Martin is just one. As documented in a report by Malcolm X Grassroots Movement, every 28 hours in 2012 someone employed or protected by the US government killed a Black man, woman, or child. A total of 313 Black people were killed by police, security guards and vigilantes.
It's the racist logic of Zionism, that allows for
"administrative detention": the indefinite and arbitrary detention of Palestinian people by Israeli occupying forces, including children, without charge, evidence, or trial. It functions hand-in-glove with the Islamophobia and anti-Arab racism that creates the conditions for the torture and degradation that prisoners were subjected to in Abu Graib and continue to be subjected to in Guantanamo Bay.
It is a grotesque charade that Israel would offer the United States ethical tips on how its doctors can force-feed Guantanamo prisoners on hunger strike. The United States and Israel face prisoners on hunger strike due to the repression and inhumane treatment of their prisoners – most of whom are locked up for attempts to survive and resist systems of colonization and racism that politically, economically, socially, and physically oppresses them. In the words of Sheikh Khader Adnan, a former Palestinian Political Prisoner, whose 66-day hunger strike in protest of being detained without charge attracted worldwide attention, wrote by way of support of the California hunger strike:
The policy of isolation is a cheap weapon in the hands of those who hold power. The policy of isolation is used against American citizens who are victims of the political, economic and social order/system that thrives on greed, discrimination and the deprived, including the African-Americans and Palestinian resistors such as Sameeh Hamoudeh and Sami Al-Aryan…Hunger strikes are a courageous step and a real tool for all those who are deprived of their rights to lift the existing oppression, and I hope that these prisoners will gain their rights and their demands. Today, the hunger strikes of the Palestinian prisoners inspires those who are detained to engage in hunger strikes to guarantee that they are treated humanely and with respect and dignity.
Prisons are used to repress political dissent, to target those whose daily survival is a resistance to a system designed to eliminate and/or suppress them, and to both create and control an underclass whose lives are valued at nothing, who are not deemed worthy of protection, whose very existence is criminalized. While in a different time and place, at a different speed and employing different methods and speed of genocide, political repression, and ethnic cleansing, the Nazi genocide was a project of criminalizing people based on their role in political dissent (socialists, labor organizers, resistance) and their social identities (Jewish, gay, disabled, Black, Roma). And while a death camp is different from a prison, the underlying logic of the racism and repression of the Nazi genocide resounds: that certain groups of people are worthy of contempt, isolation, and destruction because of who they are and/or what they believe in.
For Governor Brown to commemorate the horrors of Dachau while allowing the horrors of solidarity confinement and the prison industry in California is nothing short of hypocrisy and opportunism.
As Jews in solidarity with prisoners organizing from Pelican Bay to Palestine to Guantanamo, we say Never Again for Anyone. The undersigned demand that Governor Brown insist that the California Department of Corrections and Rehabilitation meet the demands of hunger strikers for humane treatment.
International Jewish Anti-Zionist Network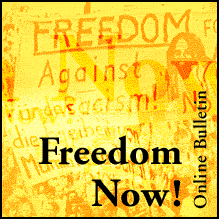 Nächste Termine

Keine Termine bekannt.



Login